I have been stressed, tired, and having migraines. It was an overall crappy July. I started feeling a bit off in the beginning of the month, so I pulled away from working on the blog and shop to concentrate just on my full time job, housework, and taking care of my dog. You know, take things easy *roll eyes*.
I did manage to get some work for the shop done. I made color dyed cut offs! It was surprisingly fun and extremely easy.
Here, I will show you how.
What you need:
Procion dye mix of your choice
Bag of Urea
Bag of Soda Ash
Water
Clothes to dye
Step 1:
Get you dye tub ready. 5 gallon tub with cold water. fill with about 3 and a half or 4 gallons (remember displacement!!). You can use a larger tub, but remember if you use more water you will need more dye powder.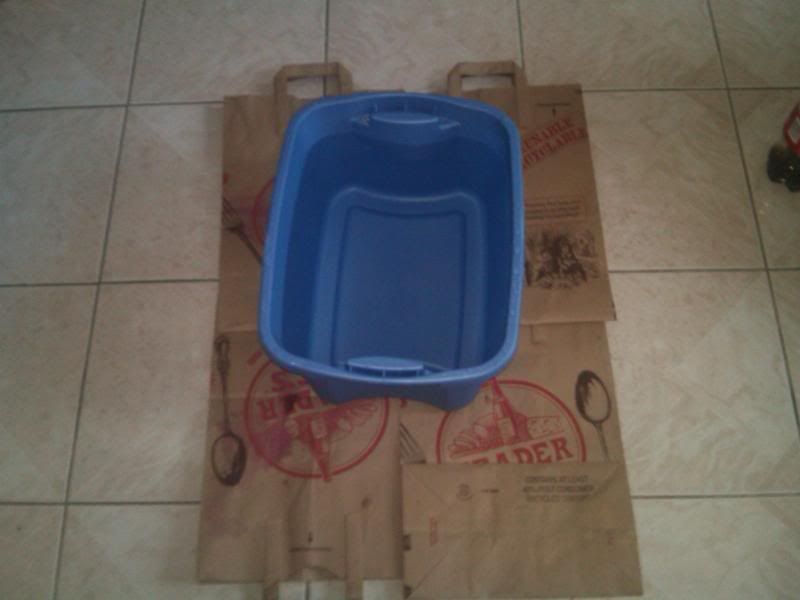 Step 2:
Completely soak the clothes separately, in a sink or tub, making sure they are fully saturated with water.
Step 3:
Make the dye bath! Add a cup of salt, 2 tablespoons of the dye of your choice, and 1/2 cup of Urea balls. Stir until well mixed. In a separate container of cold water, mix in 1/3 cup soda ash and mix until somewhat dissolved. Don't be shocked when the soda ash hardens, it will dissolve after a while.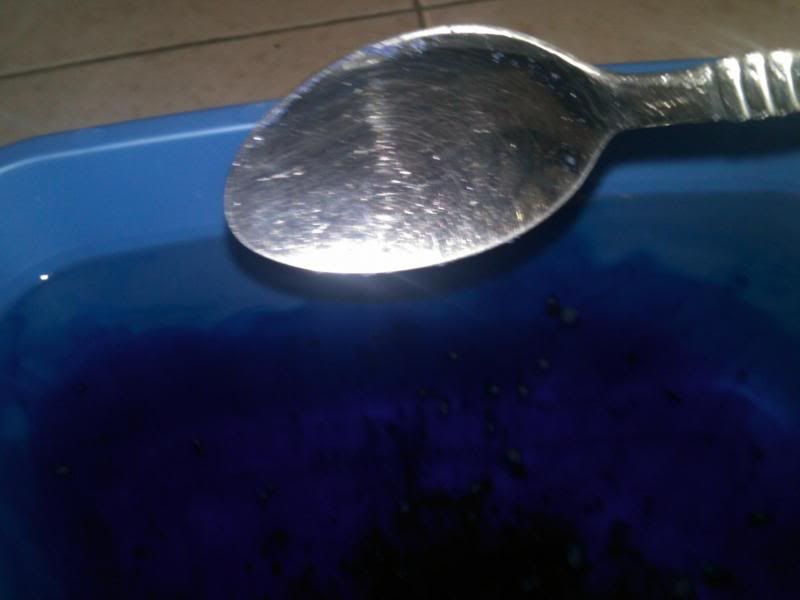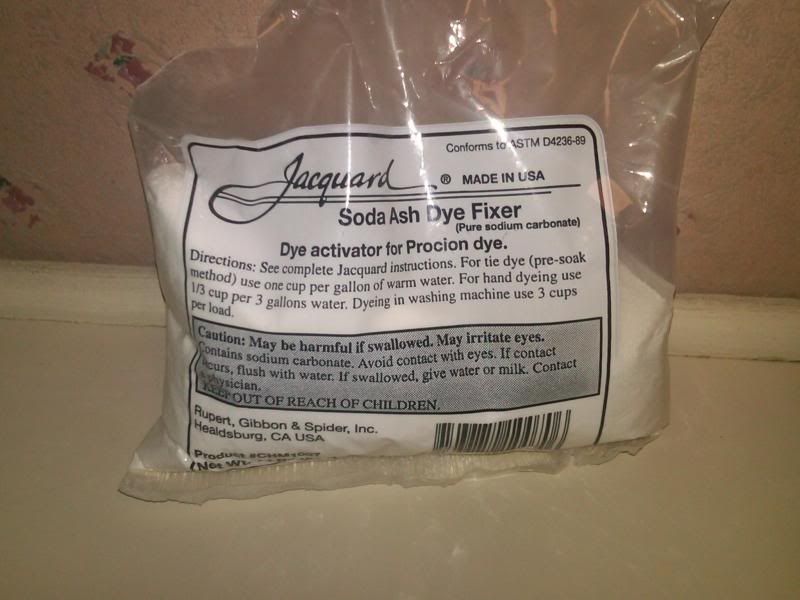 Step 4:
Add the clothes. Leave enough room to stir (in a five gallon tub, two articles of clothing at a time). Stir consistently for 20 minutes.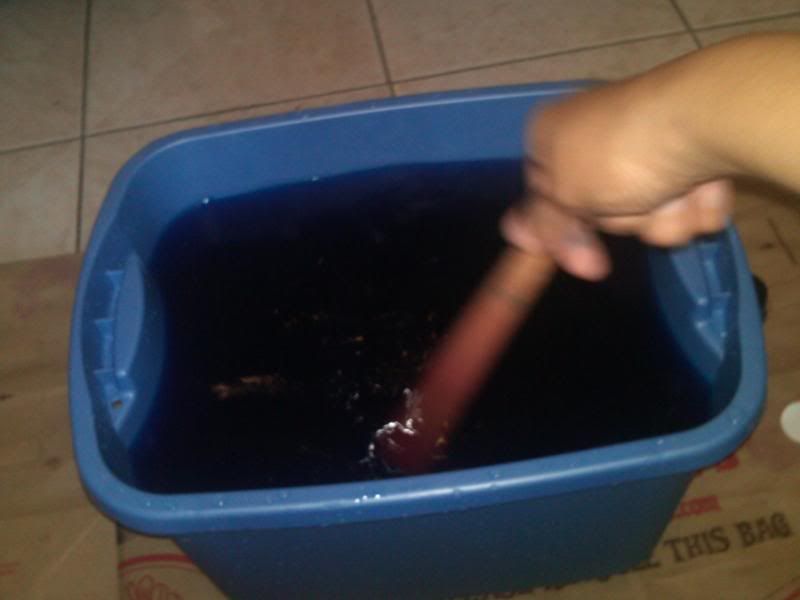 Step 5:
When 20 minutes are up, add the soda ash bath slowly, while stirring. Keep clothes in dye bath for an additional 30-40 minutes, stirring occasionally.
Step 6:
In a running bath, dump the dye out. Rinse the clothes until the water comes out clear…ish. It will take a few washes for the dye to stop running. Line dry.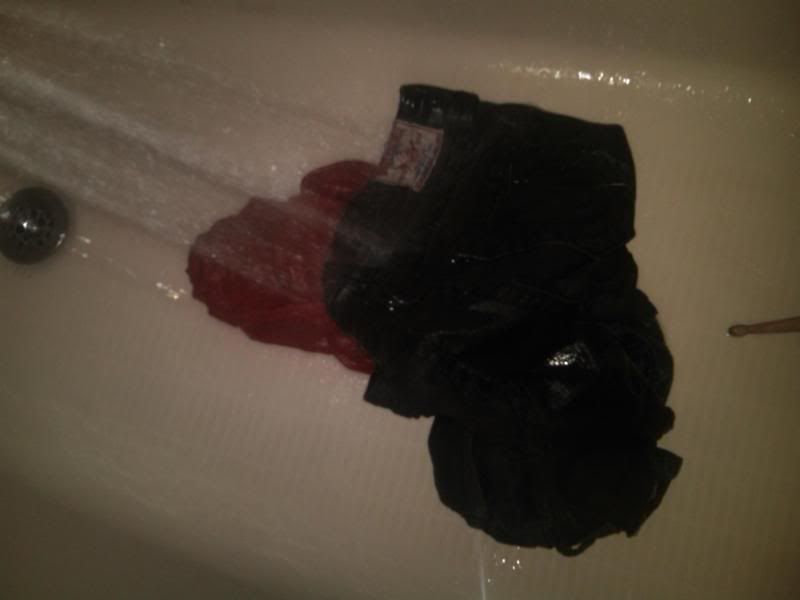 a few tips:
use gloves. I didn't the first time I dyed some shorts fuchsia. It looked like I killed a Fraggle.
If you are super neat with the stirring, go ahead and set it up like I have in the picture above (that was when I had the help of Mom Jeans to clean up spills, and he's a lot more graceful than I am). But if you are a clumsy spaz like me, put the 5 gallon tub inside the bath tub so you can stir like a Tasmanian devil…and not suffer the consequences of getting your white grout tiled floors dyed pink and blue. Oops.
The water will not run clean when you rinse the clothes after the dye bath…they just won't. Go ahead try it. Think you are better than me and you are gonna' get that water to run clean. Frustrate yourself. The best you can do is get as best you can to run it a lil' clean and then wash the items (either in the tub or in the washer) with detergent.
don't have the kitties around. I now have adorable little pink paw prints on the white sofa.
Remember the dye will react to the original color. So if you are dyeing something that was originally red in a blue bath, the color will come out …Purple. Just like you learned in art class! That's part of the fun of dyeing things, see what surprises come out that bath!
An added plus is that you can mix dye powders to get different colors! But always keep in mind the original color of the garment being used.
Have fun mixing colors and dyeing away! Here are the final results of some items I dyed.
Original color: Yellow
Original Color: black
Original Color: light grey