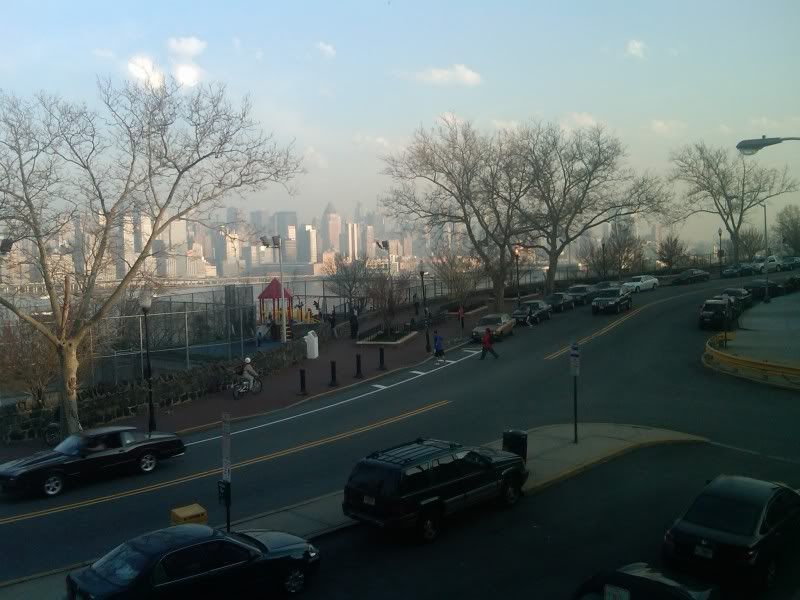 What a beautiful day! It started off pretty grey but now its full on April. It's a bit hazy but you can see Spring struggling to get in through those clouds. The breeze is cool against my skin and blowing through Charlie's curly salt-and-pepper hair. Other dogs look just as pleased as my little man, and they walk by happily with their proud owners.The Hudson River is looking very peaceful today after being pounded by rain for about a week and the water is crawling along its path. Get your rest little river!
The sunlight is bouncing off the buildings giving the city an orange glow; New York you are looking gorgeous at this time of day from atop the Palisades. I wish I had $8 to pay for the toll to take Charlie for a walk in town. New York in the Spring is a sight to behold! I can't wait for the flowers to start blooming and the weather to be a consistent 70 degrees Fahrenheit! I can't wait to walk down the street with no jacket, cruising from shop to shop, eating all the local deliciousness and enjoying the culture my beautiful area has to offer. Winter is such a drag around here, and being cold and rushing around to escape it is nothing glorious. Why are you soo long Winter!
As a treat for both of us, I took him to the dog park for about 20 minutes. I usually don't take him since he has long hair and it gets pretty grimy. I saw no harm in taking him today since I'm going to bathe him later and probably groom him some time this week. My little man has had his winter coat long enough!
But let's get to the subject at hand:
I Hate my Room
As I said before on Sunday's post, my room does not make me comfortable. It's a very plain and very blah place and I do not feel like I can get anything done in there. I'm partly being dramatic but I have a lot that I want to do with this place and I just can't seem to get the motivation to do it all. Working 9 hours a day makes me tired!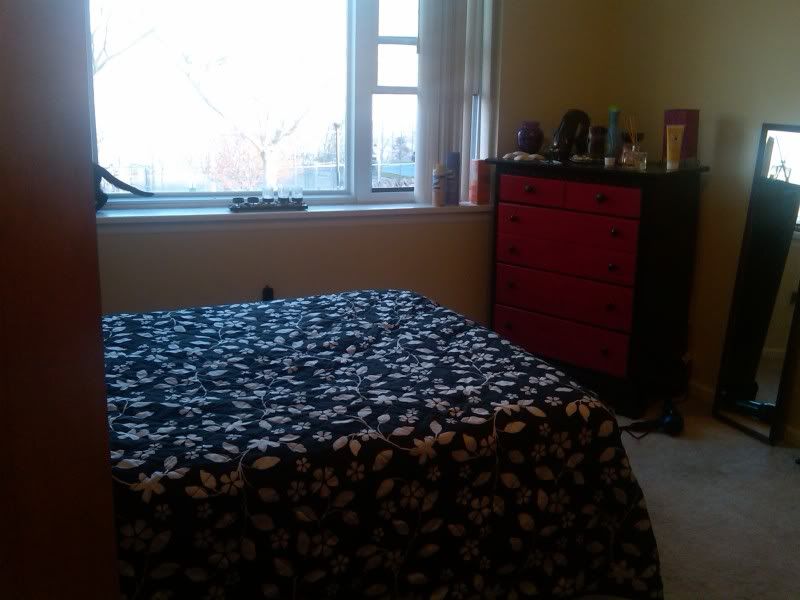 This is what you see when you first enter my room. Ignore the cleaning products on my window sill and the sprays. I hate pet smells so I am constantly spraying in my room!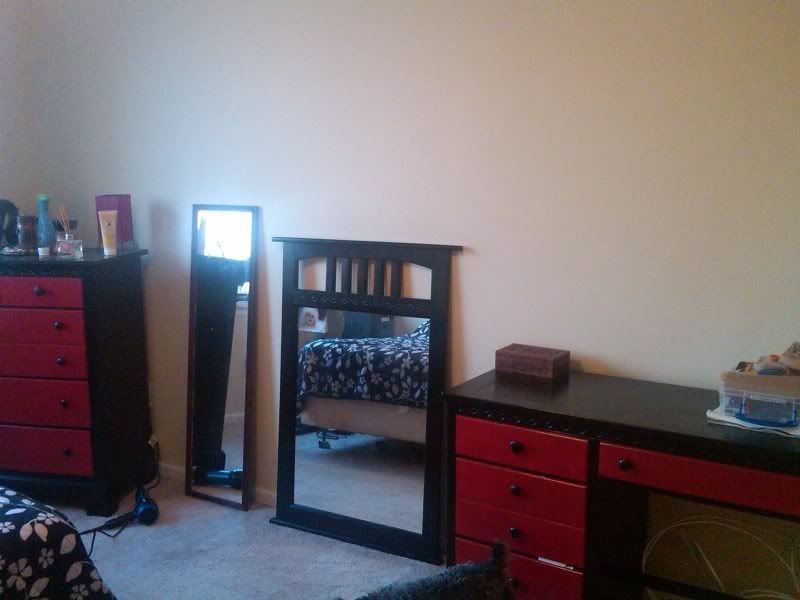 This is the one wall I really hate. Mostly because of the mirrors just chilling on the floor. I have a lot of work to do!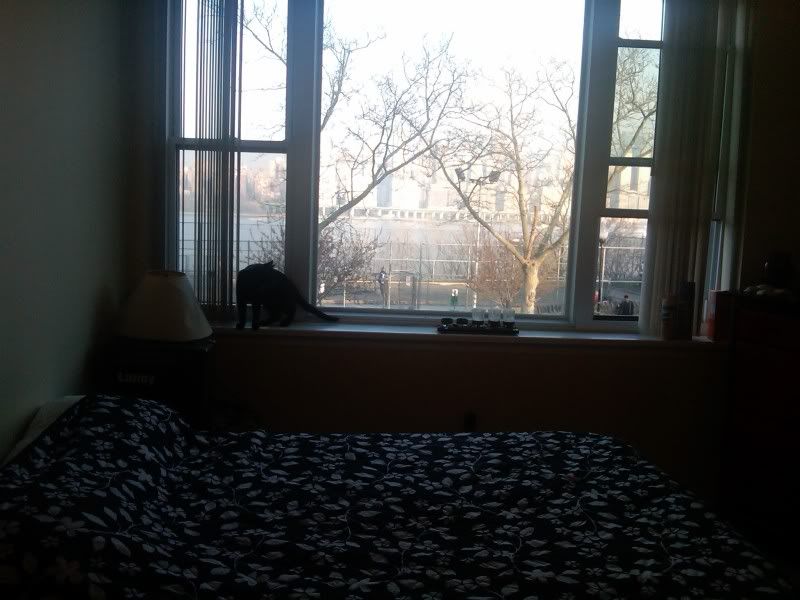 Where the magic happens! That what my friend Justin said about this view and bed area! HA! I love my window and my view it is amazing!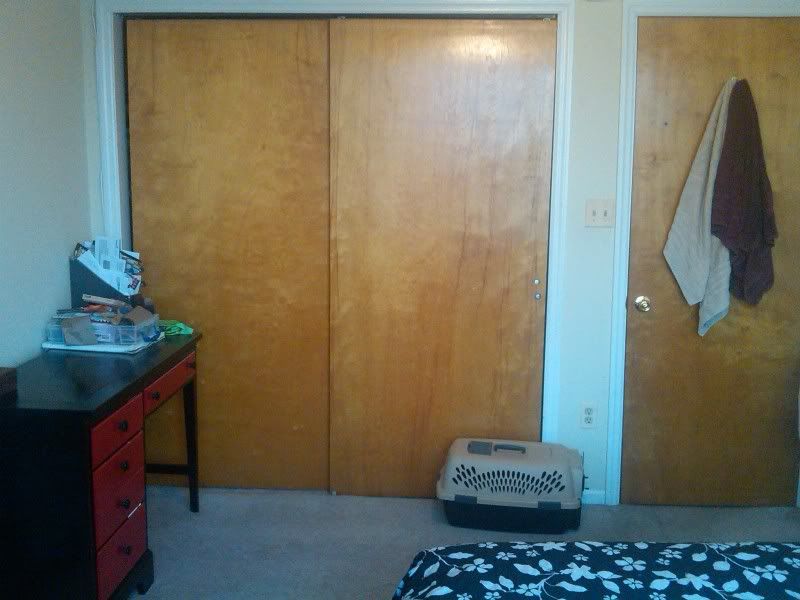 I love my closet! But it is starting to get packed with books, bedding, supplies, and my inventory. It still has room and I keep it SUPER organized because I am crazy like that (sweaters with sweaters organized by cut, dresses with dresses organized by style) I need other storage solutions, but I am poor. The unfortunate thing about this area is that one wall has ALL my doors. I really cannot place anything along this way.
My room has tons of potential and I have a lot of ideas. I plan on moving the furniture around and playing with the layout. If anyone has any ideas, spit them out to me. I am NOT changing the color of my furniture since it has recently been painted. I love red and black..so boo on you!
I'll be sketching my room lay out ideas and slowing bringing ideas forward. Please, let me know what you think would be great.
Once again. . .
Here are my hang ups:
My dog hides under the bed. He also steals my socks, pens, and hides other things under there, creating a mess. I HATE MESSES.
I have no workspace. My desk is missing a chair.
My mirrors are all propped against a wall
my walls are a gross eggshell flat paint color and does not mesh with my black and red furniture that I love soo much
The whole apartment is tiled or hard wood floors. For some reason my landlord thought it would be great to put in a carpet in just MY room. It was shabby when I moved in. I steam cleaned it in October but we have two cats and a dog. It gets very dirty very quickly. Have to steam it again
I have no wall art or anything to decorate.
I have no space to put my books and I cannot have a bookshelf because I have a dog that just loves to mark things. He is not neutered and can be naughty sometimes.
Can't wait for the final results!